Aero Pure Water
"The Bottleless Pure Water People™"
(209) 333-9200
UPDATE - A Community Without Water
CALL US TODAY.
(209) 333-9200
About Our Company
Aero Pure Water was established in 1986 with the idea that bulk delivery of bottled water was a viable alternative to the traditional five-gallon package. During the first few years Aero Pure Water penetrated every segment of the delivered bottled water market beginning with residential and small business. Growing from there into the commercial, industrial, institutional, and recreational markets, as well as natural disasters. Here's how it works! We place an appropriately sized container that holds and dispenses water in a convenient location. Sanitary lines are run from that container to the water dispenser (i.e. Touch-Flo Faucet ™, Instant Hot, Coffee Maker, Refrigerator Door Dispenser, etc.) We can also retrofit existing water fountains, ice makers, coolers, and vending machines. All installations are customized to the customer's needs.All containers, lines, pipe, and dispensers used in the installation are made of food grade FDA approved materials. The water used is purified at our plant then transferred into sealed storage tanks. When the water is loaded onto our delivery trucks it is run through an ozone generator into a closed tank. Once the driver is at the delivery location the water is run through an additional ozone generator into the sanitary holding container at the customer's location. Immediately prior to the water being dispensed it is run through a final post filter unit ensuring the water is completely purified.
The Benefits of Bottleless Water Delivery
The cost per gallon is usually lower.
There are no bottle deposits, lost bottles or bottle storage issues.
Bulk delivery eliminates any in-house labor costs to the customer for handling, i.e. time required keeping the coolers supplied with full bottles and collection of empties for return.
Bulk delivery eliminates possible worker's comp. claims associated with the handling of 5-gallon bottles. Those 50 pound bottles are awkward to handle and often heavier than an employee normally handles in their regular work duties—especially those in clerical work areas.
Full bottles of water could be taken off site and used for personal use. Employee residence, travel trailers, motor homes and camping etc.
Bulk water delivery to the cooler is more sanitary than bottles as the water travels through a dedicated line to the cooler.
The cooler reservoir is completely sealed (Closed System) and covered with an air filter to protect against contamination.
Bottles can often become dirty sitting in storage. The neck of the bottle is used as a handle when a full bottle is placed on the cooler and care in hand cleaning is often overlooked.
The water quality of Bulk purified and Bottled purified is the same. The only difference is the packaging. (Same water different container!).
All Tanks and Plumbing will be Food Grade with a sealed system; outside tanks will have an exterior coating for insulation and prevention of UV penetration and contamination.
Here's How It Works . . .
Touch-Flo™ faucet can be placed right at your sink. Your refrigerator, icemaker/door dispenser and instant hot water can also be supplied with Aero Pure Water, installed by our competent service people.
A storage reservoir will be placed in an out-of-the-way area, and will provide you and your family with enough pure water to last a full month. It will be kept full on a regular basis, by the Aero Pure Water delivery truck.
The Aero Pure Water system has revolutionized the dispensing and delivery of pure water. That's why we're called "The Bottleless Pure Water People.™"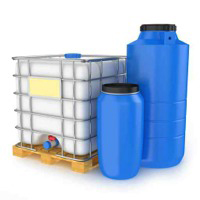 For construction job sites we place a 1,000 gallon sanitary tank at your job location and keep it filled with purified Aero Pure Water. Fill your 5-7 gallon Igloo® jugs in less than one minute (pump dispenses approximately 5 to 10 gallons per minute).
We can also hook up an ice machine to the tank. Depending on your usage, in most cases, we provide an ice machine at little or no cost to you.
Our closed tank system is: more sanitary and more convenient. Compared to bottled water delivery, there are NO bottle losses and NO bottle deposits.
Throwing an Event and Need Water Service?
Our custom 8 station, self-fill, water trailer holds enough ice cold purified water to fill 4,000 half liter sport bottles.
We park the trailer in a location at your event. People can walk up to the trailer and fill their container with great tasting, ice cold, Aero Pure Water.
We provide stainless steel, reusable, sport bottles for a minimal charge to those event goers who don't have their own bottle. Paper cups are also provided.
Tired of Lifting Those Heavy Bottles?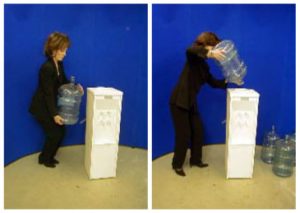 Information on the problem of loading bottled water can be found on Lawrence Livermore National Laboratory's web site under Lessons Learned - Safety Alerts.
The National Safety Council has a job analysis video series narrated by William Shatner. One of the safety hazards discussed is loading bottled water.
Contact Us.
(209) 333-9200
Aero Pure Water
P.O. Box 2059
Lodi, CA 95241